Wichtel Socken / Swap Socks
Da nun mein Socken-die-Freude-machen -Paket wohlbehalten bei der Empfängerin angekommen ist, kann ich nun hier auch Bilder zeigen.
As my Socken-die-Freude-machen -package now savely has reached its destination I can show here some pictures.

Ich habe Theresia bewichtelt, die die Aktion auch organisiert hat. Da ich regelmäßig in ihrem Blog mitlese, wußte ich, dass sie Twilight-Fan ist und da ein Knäul aus meinem Stash mich sehr an die Regenwälder der Olympic Peninsula erinnerte, entstanden daraus diese Travelling to Forks Socken:
My swap partner was Theresia who has organised the swap. As I'm regularily reading her blog I knew that she liked Twilight and as a skein in my swap remembered me on the rain forests of the Olympic Peninsula I made from it thes Travelling to Forks socks:

Ein Vergleichsfoto gefällig? - Bitte sehr - Maple Grove im Hoh Rain Forest:
For comparison - Maple Grove at Hoh Rain Forest: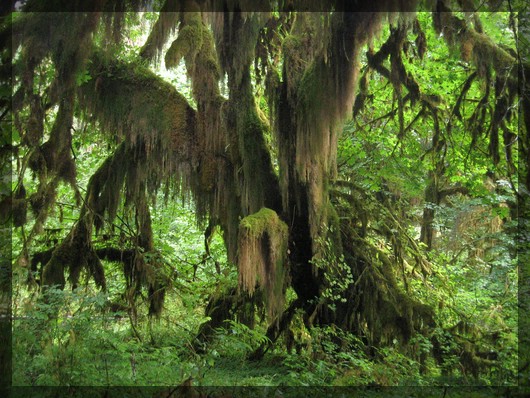 Das Muster der Socken ist "Travellers Stockings" aus "Knitting on the Road" von Nancy Bush, das verwendete Garn ist Regia in der Färbung Traveller Color.
The pattern is Travellers Stockings from Knitting on the Road by nancy Bush, the yarn I used is Regia in Traveller Color.

Für Theresias Mann Jörg gab es Regenbogen-Socken aus Wolle aus dem Opal-Abo vom letzten Dezember:
Theresias husband Jörg got some Rainbow Socks from yarn from the Opal Subscription from last December:

Letzte Einträge: Nachschub für die Sockenschublade, Noch mehr Socken, Rückblick Januar 2012, Nachtrag, Schon wieder Socken, Rückblick Februar
bisher 0 Kommentar(e)     TrackBack-URL